Original article: http://www.hawaiistar.com/2015/11/kids-win-latest-startup-weekend-honolulu/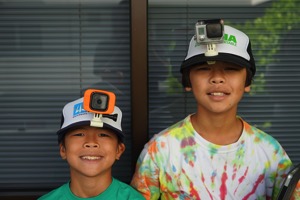 History was made on Sunday when 12-year-old Buddy Leong, 10-year-old Koko Leong and 6-year-old Kyndra Leong beat out a field of over fifty adults to win first place at Startup Weekend Honolulu. The achievement may represent the youngest team to win a Startup Weekend worldwide.
Founded in 2009, Startup Weekend has been held over 1,200 times in over 560 cities with an estimated 105,000 participants. The Global Startup Battle is now being held in over 250 cities worldwide.
Over 25 individuals pitched an idea on Friday night and the 10 ideas with the most votes went on to recruit a team. The teams had until Sunday afternoon to create a business model, prototype, get customer validation and deliver a five-minute final presentation. They are judged by industry experts and a winner is named.
The panel of judges this year were TV celebrity Kwame Jackson of Krimson by Kwame, HTDC executive director Robbie Melton, Blue Startups managing director Chenoa Farnsworth, Sultan Ventures venture associate Luke Tucker, and Allison Izu of Allison Izu Denim.

The GoPro accessories market is estimated to be $347 million out of the $612 million action sports camera accessories market. The students designed two prototypes for a removable and adjustable GoPro camera hat mount. The prototypes were then 3D printed by mentor Collin Kobayashi, CEO of 3D Innovations. Then they took the prototypes to potential customers for feedback. A video documenting their work can be found at Menehunes.co.
The other members of the team are Monica Umeda, co-founder of Akabotics, Kari Leong, teacher and CEO of Bubble Tea Supply, and Evan Leong, founder of StandUpPaddleSurf.net.
The top three teams from each region now have the opportunity to compete against each other for a chance to participate in the final round in Barcelona, Spain. Starting on November 28, 2015, you can vote here.